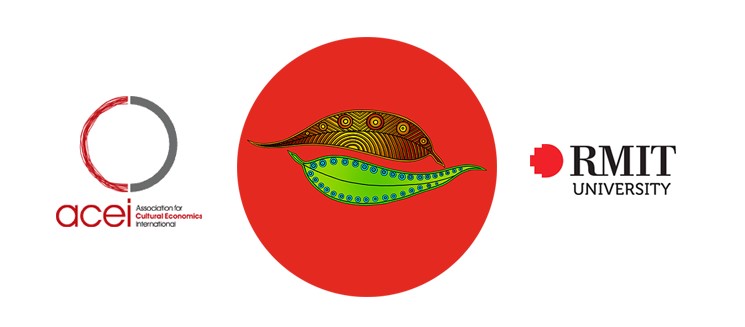 The Association for Cultural Economics International (ACEI) invites you to attend its 20th International Conference on Cultural Economics (ACEI2018) to be held at RMIT University in Melbourne from Tuesday June 26th to Friday 29th, 2018.
For the contributed paper sessions, submission of papers (in English) on any aspect relevant to cultural economics will be considered. As is customary the conference will welcome contributions across the spectrum of the field of cultural economics and also welcomes submissions from different disciplinary perspectives that share an interest in empirically motivated research involving aspects of the arts and culture.
Papers are invited that address the following issues: art markets, creative industries, international trade in art and culture, cultural policy, technological disruption in cultural and entertainment industries,cultural diversity, cultural entrepreneurship, arts and cultural organisations, Indigenous art and culture, cultural festivals, network structures of artists and arts organisations, culture and sustainable development, digital participation, funding the arts, big cultural data, the economics of food and wine, the linkages between sport and culture, valuing the arts...and more.
Abstracts should not exceed 500 words and need to be submitted by January 31st, 2018 using the online form.
When submitting an abstract please be sure to fill out all information requested on the online form including identifying keywords (up to five).
For further information about the conference please contract Dr. Bronwyn Coate at bronwyn.coate@rmit.edu.au.
A workshop dedicated to young researchers will be held on Tuesday June 26th. The workshop will be chaired by Dr. Jordi McKenzie. For more details on the Young Researchers Workshop please contact Dr. McKenzie at jordi.mckenzie@mq.edu.au.
Start Date:
End Date:
Deadline for paper submissions:
Expired
Deadline for participant registration:
Expired
Location
Australia
Melbourne
Deadline for paper submissions:
Expired
Deadline for participant registration:
Expired
445%20Swanston%20Street%2C%20Melbourne%2C%20Australia