Program
Duration
24 Months
This course is primarily aimed at students with a background in economics and business studies, who have a keen interest in quantitative methods and the use of massive data to maintain and increase the competitive advantage of a company, while also emphasising the aggregate economic impact.
Throughout this course, students will acquire data processing skills to interpret and analyse complex phenomena in the fields of economics, strategy, marketing, human resources, finance, accounting and social sciences in general.
The programme is divided into two study paths, "Business Application" and "Fintech and Bigtech", which share the same quantitative training, with a strong basis of information technologies and the learning methods of artificial intelligence, statistical learning methods and mathematical optimisation methods to support decision-making and risk analysis.
Equipped with a solid theoretical and practical training, DABS master's graduates are professionals who can work in public and private organisations, holding the position of business analyst or working as professionals with multidisciplinary knowledge and skills, a real asset to those companies who are not only seeking to generate a competitive advantage, but also to create new business models.
Upon graduating, you will be able to enter the tertiary sector and public administration - for example, working in the development and management of innovative, data-based services - or in the scientific, technological, biological and healthcare fields, supporting sector specialists.
Lastly, you will also be prepared to work in the in the Economics and Finance sector, for example managing complex valuation and pricing models.
Access to the programme
Programmed, 40 available positions for the summer selection.
Call for applications and details about the assessment procedures are available in the webpage dedicated to test and admission requirements: https://www.unive.it/pag/38959/
Deadline: July 31st at noon (12:00) CEST
Where
Department of Economics - San Giobbe Cannaregio 873 - 30121 Venice
For further information please contact the Campus of Economics, campus.economico@unive.it
Head of studies
Prof. Agar Brugiavini (Teaching Committee Coordinator, brugiavi@unive.it)
Language
English
Duration
2 years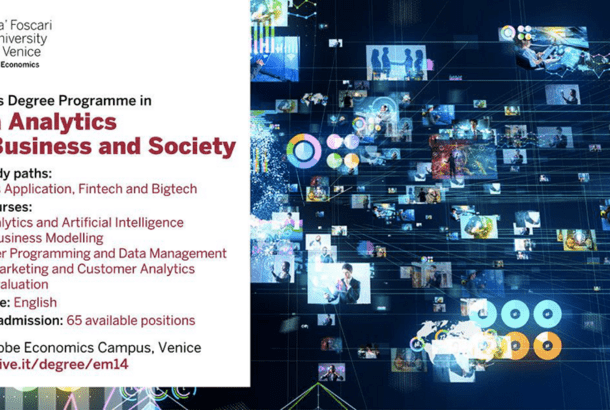 Program
Duration
24 Months